08 Feb 2023

Ellen Morgan – BDA Student Representative
It's Student Volunteering Week! To celebrate we are sharing a special series of blogs that showcase the difference our student members make to our Group and Branch network, as well as highlight our latest volunteering opportunities.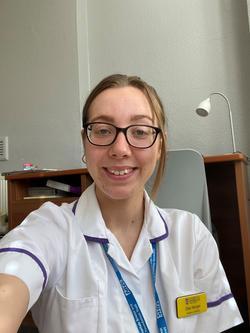 Hi! I'm Ellen Morgan, the BDA student representative for 2022/2023. This week is Student Volunteering Week and this blog is about my experience volunteering for the BDA as Student Rep and what an amazing opportunity this has been!
I originally applied for the role as a way to gain a unique experience that would hopefully help me build confidence as a dietetic student, and it would enable me to see what the dietetic world has to offer! I felt the role would give me opportunity to experience more outside of the normal student opportunities, such as sitting on the Board of Directors. I wanted to be able to connect with fellow students and build the support available for students, particularly while on placement.
I started the role in September and was blown away by how supportive and kind everyone I came into contact with was! It's inspiring to see how passionate everyone working and volunteering for the BDA really is and also how much goes on behind the scenes! Since then, I've definitely built confidence in writing a range of content, speaking to fellow students and other members of the BDA, and had some amazing opportunities and experiences.
Within my role I write for RD2B (the student ezine), attend Board of Director meetings both online and in person, attend events such as the annual Research Symposium, work with different BDA teams to develop a variety of resources for students, as well as other opportunities that pop up along the way.
Of course, the most important part of my role is supporting students who get in contact with any queries and questions and (hopefully!) pointing them in the right direction. I also enjoy keeping up with fellow students on Twitter and Instagram.
There are so many amazing opportunities for students to volunteer within the BDA and I would absolutely recommend that you get involved! Volunteering is a great opportunity to build confidence as a student and meet other students and dietitians.
As always, please get in touch with any questions about my role or other opportunities to volunteer within the BDA. You can message me on Twitter, Instagram, or via email.
Student Week Volunteering page
Author

Ellen Morgan
BDA Student Representative 2022/23