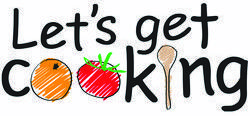 Large beef tomatoes taste superb when filled with couscous and juicy dried fruit and baked in the oven. Serve with slices of crispy grilled wholemeal pitta bread and salad for a colourful and mouthwatering summer lunch. This recipe contains a portion of fruit and a portion of vegetables for each person.
Ingredients
150g couscous
60g ready-to-eat dried apricots or dates
60g raisins or sultanas
175ml boiling water
½ x reduced-salt vegetable stock cube
4 spring onions
15g bunch mint OR coriander OR 1 x 5ml spoon dried herbs, plus extra fresh herbs to garnish (optional)
1 lemon
1 x 15ml spoon olive oil OR vegetable oil
1 x 5ml spoon paprika
Ground black pepper (optional)
4 large beef tomatoes
4 x 5ml spoons balsamic vinegar
---
Equipment
Weighing scales
Medium mixing bowl
Chopping board
Sharp knife
Mixing spoon
Kettle
Measuring jug
Grater
Lemon squeezer
Measuring spoons
Teaspoon
Medium ovenproof dish
Oven gloves
Pan stand
---
Instructions
Preheat the oven to 200°C/180°C fan or gas mark 6.
Weigh the couscous and pour into a medium mixing bowl.
Chop or cut each of the apricots or dates into 8 pieces and stir into the couscous together with the raisins or sultanas.
Measure 175ml of boiling water into the measuring jug, crumble in the stock cube and stir to dissolve.
Pour the hot stock over the couscous, stir and put to one side.
Wash, top, tail and peel the spring onions and slice finely.
Wash the herbs, remove any hard stems and chop finely, reserving 4 sprigs for garnish.
Grate the zest from the lemon, cut in half and squeeze the juice from 1 half. Cut the other half into 4 wedges and set aside.
Add the spring onions, herbs, lemon zest and juice, oil, paprika and pepper to the couscous and stir well.
Cut the top part off each tomato, slicing about one third of the way down and being careful to keep the tomato shell whole. Scoop out the flesh and seeds from both parts of each tomato with a teaspoon.
Save the tomato lids for step 13. Discard any of the hard core and chop the flesh into small pieces.
Add the tomato flesh, seeds and juice to the couscous.
Place the tomato shells in an ovenproof dish that holds them snugly but so that they are not touching each other.
Fill each shell, pressing in plenty of couscous but taking care not to split the tomato sides, then top each with a tomato lid.
Bake in the oven for 20 minutes.
Remove from the oven and drizzle each tomato with 1 x 5ml spoon of balsamic vinegar and garnish with herbs (if using), and wedges of lemon.
Skills used include:
Weighing, measuring, peeling, chopping, grating, squeezing and baking.