01 Sep 2022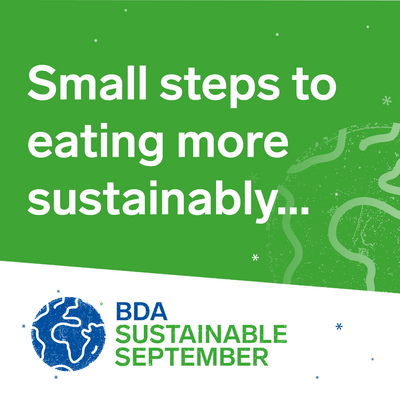 BDA Sustainable Diets Specialist Group committee member Rosa Holt explains why this annual campaign around sustainability is so important.
What is Sustainable September?
Sustainable September is a month-long campaign organised by the BDA to showcase the multitude of ways we can all be more sustainable in our shopping, cooking and eating habits to protect our environment and our health. Every day in September we will share information and provide tips, tricks and quizzes to boost your sustainability knowledge.
Why do we all need to make a change?
It's the responsibility of all of us to create change for the better. Our dietary choices drive the market for foods which cause damage not only to our health such as obesity and cardiovascular disease, but also to our environment. We know that small changes in a high proportion of the population are effective in tackling climate change.
With increasing incidence of drought and floods, loss of wildlife and pollution of our air and water threatening our public and environmental health there has never been a greater coalition of stakeholders and a shared vision to achieve sustainable diets. However, the multifaceted nature of sustainable diets, that is, the challenge of meeting nutritional requirements as well as having low environmental impacts, respecting biodiversity and being culturally sensitive, accessible and affordable can seem overwhelming. This has led to the development of the One Blue Dot resources for Dietitians to empower them on their sustainability journey.
What part do Dietitians have in sustainable diets?
The BDA's Sustainable Diets Policy highlights that Dietitians should be able to reconcile the nutritional and environmental science to inform their professional practice and to give inclusive messages about a healthy, environmentally sustainable and varied diet while being able to modify advice when appropriate for vulnerable groups and individuals such as pregnant women, people on low incomes, and older adults. Dietitians can provide visible leadership by implementing practices in their home, workplace and communities to reduce the environmental impact of food whilst promoting optimum nutrition.
The Eatwell Guide is another fantastic visual guide of how our diets can look if we eat more sustainably. By following the guide, to include more vegetables, fruit and whole grain cereals we can lower our environmental impact from GHG emissions and water use in agriculture while helping to maintain our own health by increasing our fibre and micronutrient intake.
Key messages for Sustainable September
We all feel a real sense of responsibility to make positive lifestyle changes. Just like setting dietetic goals, we can help people realise their potential by creating a few practical and achievable goals which they can maintain, for example:
Checking the fridge and making a shopping list before you buy
Choosing seasonal fruit and vegetables that are not wrapped in plastic
Freezing or reusing leftovers to limit food waste
Make sure to follow the Sustainable September calendar for more tips, tricks and inspirational ideas and get involved on social using #BDASustainableSeptember.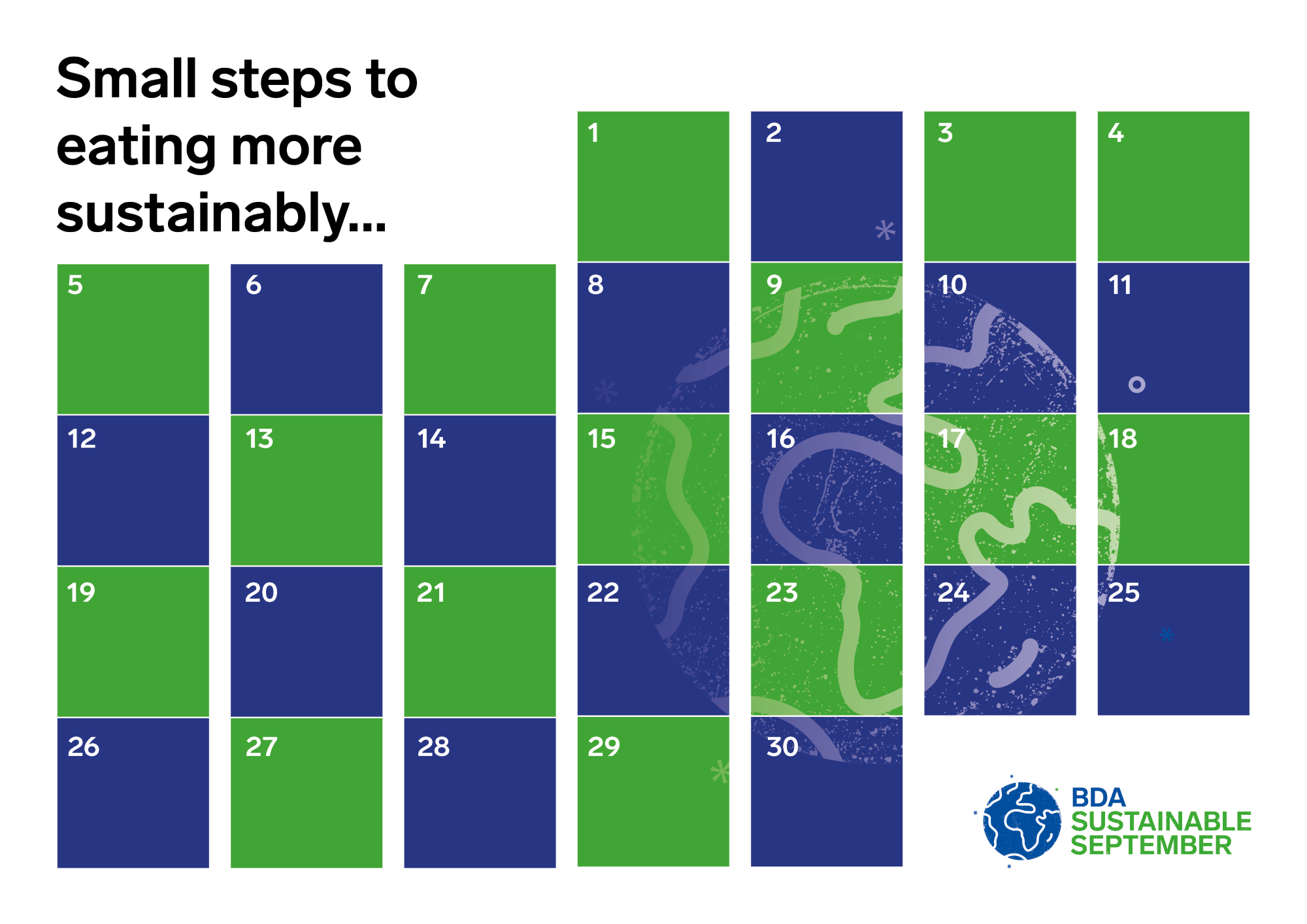 Author

Rosa Holt
Rosa is a BDA Sustainable Diets Specialist Group committee member.