15 Oct 2021

With 70% of women currently in work at risk of health issues that may impact a healthy working life, BDA Work Ready brings you a workshop to show how small changes via food and nutrition can support healthier working lives.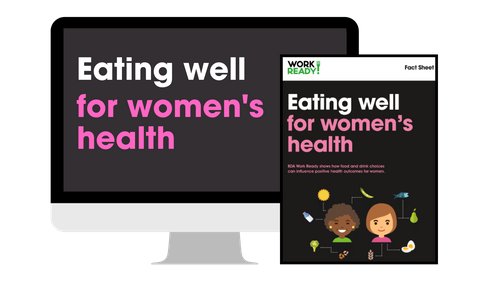 Choosing the right food and drink can help women to manage their changing life stages (including social transitions, hormonal changes and caring responsibilities) to as well as helping to promote long term health.
There are many positive food and drink choices that can provide important nutrients for women's health – and unfortunately many fads and alot of misinformation which can disrupt these choices too.
This online webinar on women's health gives tips on food groups which support better nutrition based on the latest evidence and best practice, whilst providing specific tools to support women in the workplace.
With a PDF factsheet for all attendees to identify and embed small changes for your personal lifestyle, this is a comprehensive – and fun – intervention for women's wellbeing across all life stages.
Find out more
Book with us
Just fill in the form below and a member of the Work Ready team will get back to you.