08 Mar 2022

International Women's Day is a global day celebrating the social, economic, cultural and political achievements of women.
Significant activity is witnessed worldwide as groups come together to celebrate women's achievements or rally for women's equality - which is the campaign theme this year.
Caroline Bovey, BDA Chair, said: "This International Women's Day we stand in solidarity with women in Ukraine and all parts of the world where women face unthinkable situations and extraordinary challenges.
"Today is a day when we celebrate the achievements of women and I'm proud to represent a profession in which so many women are making a difference each day across health, social care, policy and industry. Women make up around 92 per cent of the dietetic workforce. Among these are innovators, leaders, carers and changemakers. I want to thank and celebrate the contribution of all women in dietetics today, as well as those pioneers who came before us and to think to the next generation of students who will continue our work into the future.
"More widely, this is a time to campaign for gender equality and raise our voices to #BreakTheBias in society. Together with women across the globe we stand for:
A world free of bias, stereotypes, and discrimination.
A world that is diverse, equitable, and inclusive.
A world where difference is valued and celebrated."
Here are some examples of great women involved in leading the field of dietetics.
Dietitian and BDA member Lynne Radbone was awarded an MBE in the 2022 New Year Honours List for her work in neonatal critical care.
Lynne, whose career in paediatric dietetics has spanned more than three decades, was nominated for work that included the standardisation of enteral and parenteral nutrition practices across all the neonatal units within the East of England.
Dr Julie Lanigan, Fiona Huffer, Maxine Cartz, Fiona Moor and Alison Smith have all been made Fellows of the BDA over the past year, whilst Anna Julian and Karen Ward received the BDA's Ibex Award for Professional Achievement. You can read about their work and why they received these honours here.
This year's BDA Student Rep is Reema Rabheru, a final year Master's student from King's College London. The student representative sits on the BDA Board of Directors and represents the voice of all BDA student members at a strategic level. Read about Reema's plans for her time as Student Rep, and journey in dietetics so far, in her introductory Q&A.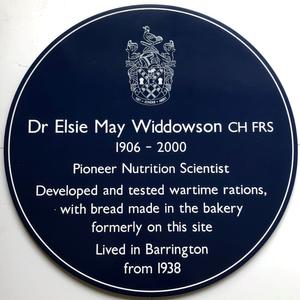 Since the 2021 International Women's Day, pioneer nutrition scientist and dietitian Elsie Widdowson CH FRS was honoured with a blue plaque in Cambridgeshire.
Elsie worked in Cambridge and lived in Barrington from 1938 until her death in 2000. Among many other things, she created the first UK food composition tables, tested wartime rations and shaped the modern loaf.
As well as being a fantastic opportunity to acknowledge the contribution of women within dietetics, the day provides an opportunity to reflect on allied health professions contribution to women's health and improving health equity.
One of the campaign's missions is "to assist women to be in a position of power to make informed decisions about their health".
The BDA Trade Union is participating in the TUC Women's Conference, which begins tomorrow. We submitted motions for debate on funding for eating disorder services, global violence against women and girls. Our motions will be debated and, if agreed, will become part of the campaign priority work of the Trades Union Congress (TUC).
Useful health resources for women
Get involved on social media using the hashtags #InternationalWomensDay #IWD2022 and tag in @womensday @UN_Women and @bda_dietitians on Twitter.