20 Mar 2020

We've pulled together a five-day digital planner including some of our most popular nutrition tools, with additional advice from Headspace, the NHS and the Chartered Society of Physiotherapists. This is a free one-week resource which works across all platforms including mobile phones to support the Work Ready community in these challenging times.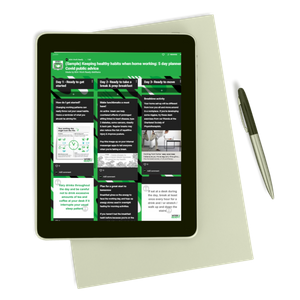 We've used a popular online tool used in schools and universities to set this up safely. You'll get a secure log-in for your organisation and colleagues can create named accounts to post and share comments, or keep it anonymous. Your virtual planner will be available for free for 14 days from the provision of your password. Once you have your custom link from us, you can share it by email for all employees to use.
To order this free resource customised for your colleagues, fill in your details in the form below. Please note we've also included an option to include/remove the BDA's COVID-19 advice – please specify your preference in the form below.
Custom versions can be created – contact us to discuss any tailoring requirements. Additional costs will apply for this service.
Due to the ongoing popularity of this resource we now also have a four week subscription option.